About InStep Podiatry
InStep Podiatry has evolved since Steve Lynch, the principal Podiatrist at InStep Podiatry arrived in Australia from Canada in 1992. Mr. Lynch commenced work with Andrew Stephan at The Cairns Podiatry Centre in Abbott St. in Cairns. Mr. Lynch eventually took over the practice with Jeff Dowdle and moved the practice a couple times until 2007 when the practice split into 2 separate entities. InStep Podiatry has remained at the same location since 2003 – at the Showground Shopping Centre in Cairns.
Mr. Lynch studied Chiropody in Toronto, Canada and graduated in 1991. After working for the Ontario government and privately as a Chiropodist in Toronto, Brantford, St.Catharines and Niagara Falls.
Mr. Lynch moved to Innisfail in North Queensland in 1992 and soon after began practicing in all areas of the north including Tully, Innisfail, Atherton, Babinda, Cairns, Mareeba, Mossman and the Cairns Diabetes Centre.
Mr. Lynch is a sole practitioner supported by his practice manager, Jade McNulty. He has clinics in Tully every month, Atherton and Innisfail every week and Cairns 3-4 days a week. Early morning and late afternoon and early evening appointments are available.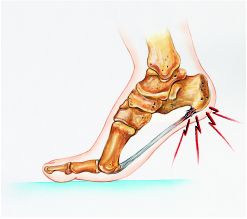 All aspects of Podiatry are available at InStep Podiatry, including:
routine nail care
callus and corn treatment and prevention
wart treatment
ingrown toenail treatments including non-invasive surgery to permanently prevent re-growth.
footwear assessment
Biomechanical examination and gait analysis
Orthotics and insoles
Shoes , including custom fit
From 1994 to 2016 Mr. Lynch was the consultant Podiatrist for the Cairns Base Hospital High Risk Foot Clinic, providing treatment and prevention methods to Diabetic patients from Thursday Island to Cardwell.